About Blueprint Engineering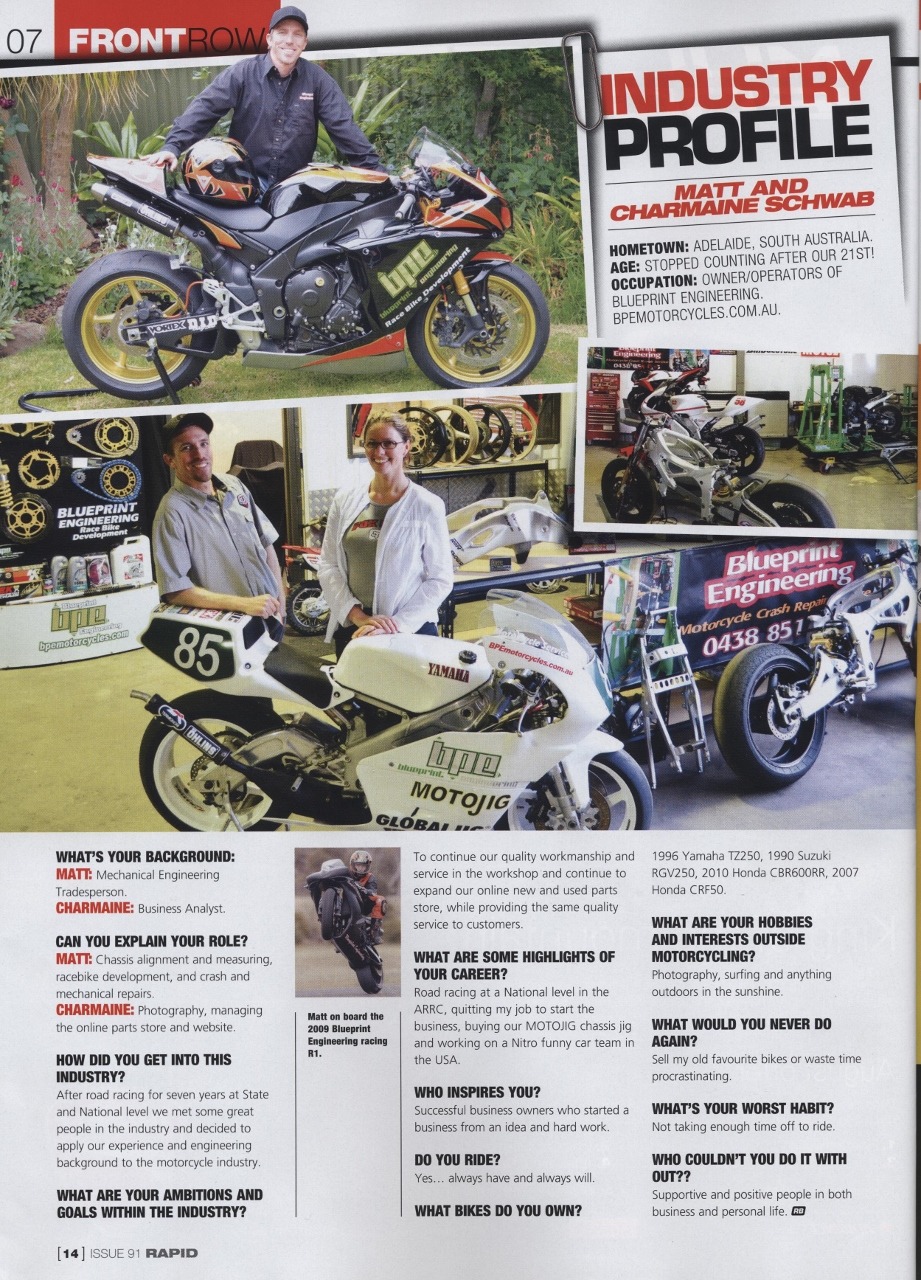 Blueprint Engineering is an Adelaide based motorcycle repair business established in 2004 by Matt and Charmaine Schwab. After 12 years of focusing on the service and repair part of the motorcycle industry we have recently started an online New and Used parts store as an addition to the business. By using our 35 years' of product knowledge and experience, in riding /racing and repairing motorcycles, we now supply quality new products and quality used parts Australia Wide and Internationally. We have the equipment and knowledge to inspect all used parts for damage before selling which is something you won't get from other used parts sellers.
Matt Schwab
Matt, the proprietor of Blueprint Engineering, is the one that will work directly with you to get you what you need taking a lot of pride in his high degree of quality workmanship and the parts sales service he provides through Blueprint Engineering.
Matt is a certified Mechanical Engineering tradesperson with more than 25 years' experience working in the Mechanical Engineering industry, both as a first class machinist and mechanical repair person working with motorcycles & machinery, hydraulics, pneumatics, MIG & TIG welding, straightening and fabrication of metals such as aluminium, mild steel, stainless steel and chrome molly. During this time Matt worked closely with Engineers and Draftsmen in design and manufacture of electronic, pneumatic and hydraulic components.
From 1992 to 2000 Matt raced road bikes at both state and national levels in the Supersport -1995 ZX600R, Unlimited – 1994 CBR900RR, and 250GP – 1996 TZ250 classes.
With some great results and great memories he left the sport to pursue his goal of running a business in the motorcycle industry.
Matt remained involved in the sport sponsoring, a number of racers including Daniel Falzon #25 on a CBR150, RS125 and CBR600RR. Also Scott #2 in Supersport on a 2006 R6 which he finished 2nd in state titles in 2007 and Sean #43 in Superstock on a 2004 CBR600RR.
Charmaine Schwab
Charmaine has played a big part in the success of Blueprint Engineering and has been involved since it began in 2004. She plays a big part behind the scenes managing the website, online store and also doing all the graphic design work for magazine and online advertising.
Charmaine has many years of experience in the IT industry and won many awards and certificates in customer service.
Charmaine has a creative flare which you can see with some our display boards and creative advertising and promotional products.
Together both Matt and Charmaine welcome you to Blueprint Engineering